Berg Brothers
Setters
703 200th St
Clearwater,  MN  55320
World-Class Bird Dogs & Family Companions
Berg Brothers Setters has been producing English Setters with exceptional natural ability for over 30 years.  We also value a calm demeanor off-task.  Of course, ever breeder has a similar goal so why is there considerable variance present in all breeds?
The answer is that great bird dogs must be above average or well above average across a number of attributes.  By definition, this means only one in many are ideal for breeding purposes and the only way to identify the one in many is to evaluate a significant number of prospects and then breed only the elite individuals.   These individuals must possess exceptional bird finding ability and bird handling ability.  They must be intelligent, readily accept training, and have a cooperative nature.  Athleticism, heat tolerance, and stamina are all also very important.   When all of these traits are considered in aggregate, a truly unbiased evaluation will eliminate a large percentage of individuals for breeding purposes.  Only a very small percentage of breeders practice the type of disciplined selection required to produce the best of the breed.
Evaluating large numbers of individuals is costly and extremely demanding.  The percentage of English Setter breeders across the country that evaluate 5 females to find a brood is probably less than 2% and this is true of any breed.  The associated cost and effort required prohibits the vast majority of breeders of any breed from practicing this degree of selectivity.  Of course, one in five is not even all that discriminating.   We evaluate 30+ dogs/yr to hopefully find 2-3 exceptional individuals for our program.  The rest are sold as started dogs.  This practice enables us to produce remarkably consistent English Setter puppies and we also produce 2-3 Red Setter litters/yr.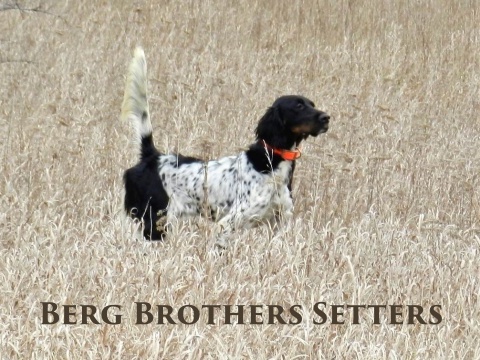 Licensed Commercial Breeder
State of Minnesota  |  License #MN790172
Visitors from 12/8/17 ….. 8,432
Pages Viewed ….. 33,252